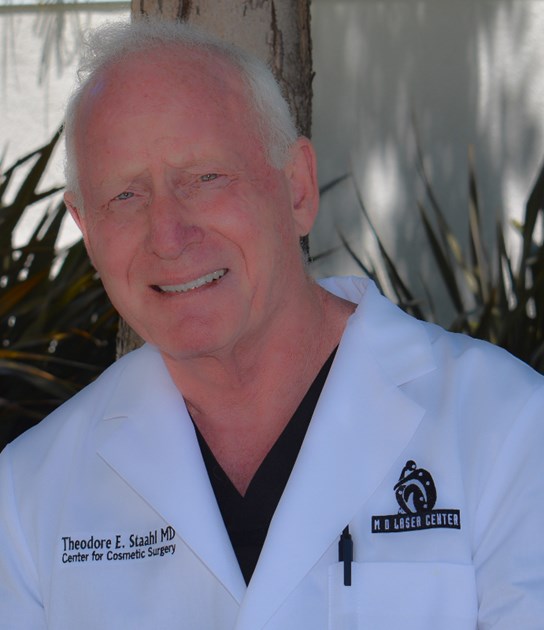 Dr. Theodore Staahl is board certified in facial plastic surgery by the American Academy of Facial, Plastic, and Reconstructive Surgeons and the American Board of Oto-Head and Neck Surgeons. At the Northern California Hair Restoration Centers in Modesto, Dr. Staahl provides men and women with diagnostic testing for hair loss, hair restoration treatments on the scalp, eyelashes, and eyebrows with follicular unit extraction (FUE), follicular unit transplantation (FUT), and SmartGraft™ techniques. He performs the majority of his hair restoration procedures right in his Modesto office, which includes a surgical suite accredited by the American Association of Ambulatory Health Care (AAAHC).
Dr. Staahl is highly skilled in advanced techniques for hair restoration for the eyelash, eyebrow, and scalp restoration using follicular unit transplantation (FUT), follicular unit extraction (FUE), and the SmartGraft technology. With extreme precision to every detail of a hair transplant, Dr. Staahl delivers natural-looking results for men and women with balding spots on the scalp or face. His heightened artistic skill has been highly refined with over two decades of plastic surgery experience performing cosmetic procedures, such as facelifts, eyelid surgeries, laser treatments, and cosmetic injectables--all available at the Center for Cosmetic Surgery in Modesto.
Dr. Staahl earned his Doctor of Medicine degree from the University of Illinois College of Medicine in Chicago. At the University of Wisconsin in Madison, he completed a residency in otolaryngology and an internship in his transitional year. Dr. Staahl is also a highly trained, board-certified facial plastic surgeon. Dr. Staahl has advanced training in the newest laser technologies, cosmetic injection techniques, micro-dermabrasion, chemical peels, and laser skin resurfacing treatments.
Dr. Staahl is a past President of the American Society of Cosmetic Breast Surgery and the California Academy of Cosmetic Surgery, respectively. He has past and present memberships to the following organizations:
Diplomat National Boards
Fellow, American Board of Otolaryngology - Head and Neck Surgery
Fellow, American Board of Facial Plastic and Reconstructive Surgery
California Medical Association
Fellow. American College of Surgeons
Accreditation Association of Ambulatory Health Care
California Academy of Cosmetic Surgeons
American Society of Cosmetic Surgeons
Diplomat, American Board of Cosmetic Surgeons
Diplomat, American Board of Otolaryngology, 1976
United States Army Medical Corps, 1976-1978